Jio GigaFiber Full Details Offer | Plan | Price | Registration available in this post. JIOFIBER or Jio GigaFiber is finally announced in the country today. Jio has been testing for the past several months this broadband service. RIL's annual General meeting Reliance Industry's Chairman Mukhesh Ambani announced JIOFIBER broadband service but several details like plans, validity, the price of it, and other things, are yet to be revealed. He also announced several services and offers as well including JIOFIBER Welcome Offer. This is one of the most attractive offers that Jio has announced at AGM today.
Full Details of Jio GigaFiber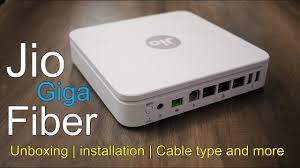 Jio GigaFiber preview offer
JioGigaFiber preview offer gives you ultra-high-speed internet up to 100Mbps free for a Limited Preview Period & a complimentary access to a host of Jio's premium apps. Incase, you consume your data quota you can continue to enjoy our high speed internet services by performing a complimentary data top-up of 40 GB via MyJio App or through Jio.com. There are no installation charges levied but there is a refundable security Deposit of Rs.2,500 taken for the ONT device (GigaHub Home Gateway) in this is a preview offer. This amount needs to be paid through Debit card, Credit Card, Jio Money or Pay TM.
For Jio Set-Top Box unbelievable Offer Jio Set-Top Box Price Click here
How can I get jio giga fiber
Apply for Jio GigaFiber Online to Book High Speed Internet Connection for Township, Society in your city. To know more about How to get Jio GigaFiber and registration here Jio GigaFiber Online Registration

Reliance Industries on Monday said Reliance Jio has logged some 15 million registrations across 1,600 towns for Jio Fiber so far. It prepares to complete the rollout of the home broadband service over the next 12 months.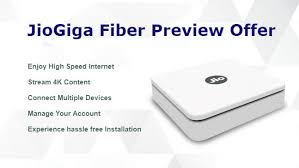 From September 5 GigaFiber will be available with free voice calls for life from landline phones. High speed broadband of minimum speed of 100 mbps. Free high definition TV and dish at minimum subscription of Rs 700.
Jio GigaFiber Full Details:
First thing to remember Basic services will starts form 100 MBPS and Rs 700 to 10,000 a month.
Jio Fiber rollout from Sept 5 @ Rs 700 a month; IOT launch on Jan 1, 2020
Voice calls will be free across India on Jio Fiber .
International calls will cost 1/5th or 1/10th of global rates in Jio Giga Fiber
Another key point Premium Jio Fiber customers can watch new movies on the day of release
Fiber customers to ger set-top box, HD/4K TVs free
Jio Fiber price:
Data Plan price will be 700/month and it's top plan will be priced at 10,000
GigaFiber Data plans:
Giga Fiber's cheapest data plan price at 700/month with speeds capped at 100Mbps. The top-of-the-line package price at 10,000 per month with access to broadband, Jio HomeTV and Jio's IoT. Complete tariff information would be available on 5 September.
Jio Forever Plans:
Jio Forever Plans will give long-term users an HD or 4k LED television and 4k set-top box for free.
Landline services:
Reliance will offer fixed line services with all of its Fiber packages. Voice calling would be free to any Indian operator. Jio also promised to reduce the prices of international calls. ISD calling tariffs would be 1/5th to 1/10th of industry rates.
On the positive side GigaFiber has received over 15 million registrations from 1,600 cities. In fact the company has drawn up a plan to reach 20 million homes and 15 million business enterprises.
Jio Set-Top Box Offer Jio Set-Top Box Price Click here