JIOFIBER Set-Top Box: Along with the Wi-Fi router, Jio will give a Set-Top box to all subscribers. The Jio Set-Top box will offer certain smart features that have never been seen before.
–The Jio Set-Top box will able to host video calling with up to four people at once. Subscribers will be able to make free video calls to people using phones and tablets as well.
— Jio Set-Top box will support console-quality gaming. The box will be compatible with all gaming controllers and it comes with an in-built graphics card to play games such as FIFA 2019. In future, more games will come from popular studios such as Tencent, Microsoft and others. With the high-speed Jio Fiber network, Jio promises zero-latency multiplayer game play. Subscribers will also be able to engage in social gaming with friends.
Mukesh Ambani has finally unleashed his triple play of carriage, content and commerce. At the 42nd AGM of Reliance Industries today, he unveiled the Jio Fiber, the much talked-about fiber-to-the-home (FTTH) service.
Reliance Jio's set top box might offer largest selection of channels

Reliance CMD Mukesh Ambani announced a TV set top box alongside the launch of its high-speed internet service, Jio Fiber, at the company's 42nd Annual General Meeting (AGM). Jio Fiber will come a landline phone connection, IoT and the aforementioned TV set top box that aims to provide ultra-high definition entertainment.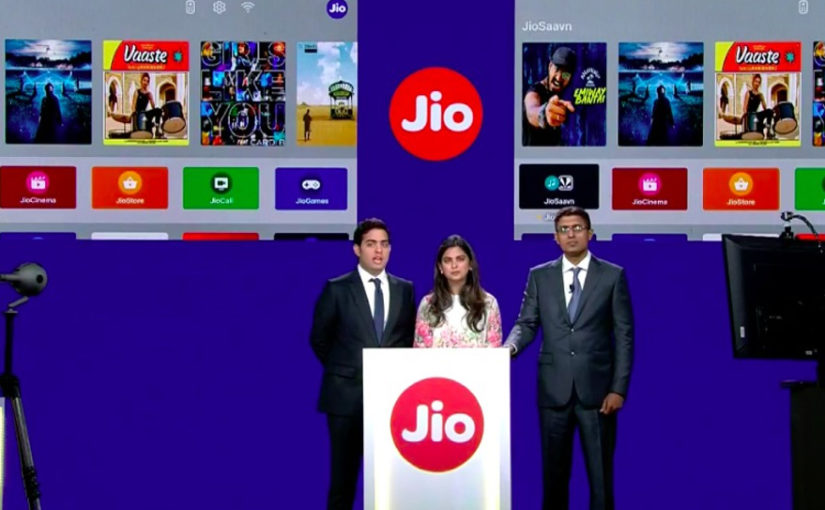 Jio Fiber plans are priced between ₹700 and ₹10,000 a month. Ambani said these rates are a tenth of the global rates.
Over the past months Reliance has worked with Multiple System Operators (MSOs) to upgrade its infrastructure, Ambani said.
Earlier this year, RIL acquired controlling stakes in three leading Cable MSOs – Hathway, DEN and GTPL — who have direct relationships with over 30,000 LCOs.
He believes after these upgrades, Reliance's LCO partners would be able to offer the largest bouquet of High-Definition channels to customers with better features, reliability and customer experience than DTH.
Ambani also said the Jio set top box can accept the broadcast cable TV signals Reliance's LCO partners.
Akash Ambani and Isha Ambani demonstrated the capabilities of Jio Fiber and Jio's set top box at the event. Jio TV seems to have integrated the entire Jio ecosystem that includes JioCinema, JioGames, JioCast and JioSaavn. They also showed the low latency, high-speed cloud gaming experience, mixed reality applications through Tesseract, a Reliance-owned startup and video and voice conference capabilities of Jio Fiber.
Full Details Jio Set-Top Box ::
Brand Reliance Jio
Product Jio DTH / Jio Home TV
Price Rs. Subscription Cost 200/- & 400/- Per Month.
Launch Date 5th suptember 2019
Queries: Jio Set-Top Box Online Booking, Jio Set-Top Box Price Price, Jio Home Tv Service, , Jio Fiber Bangalore, Jio Home, Jio DTH Malayalam Channel List, , Jio DTH Service
This Information Jio Set-Top Box Booking: Online Registration [Suptember 2019] Buy Jio SET TOP Box Plans & Offers – Jio Home TV
This Website www.Kjparmar.org
Official: www.Jio.Com