NSDL-NPS Account Is Not Open or Problem In AC List For All District: National Pension System (NPS) is a perfect solution for retirement planning. It provides old age income with reasonable market based returns. It based on unique Permanent Retirement Account Number (PRAN) which allotted to every subscriber for NPS.
contribution Government employees Perhaps kicking off the provision of sops in the budget, the central government has notified the increase in its contribution to central government employees NPS accounts from 10% to 14% with effect from April 1, 2019. The notification w issued on 31.1.2019.As per the notification, "The monthly contribution would be 10 percent of the Basic Pay plus Dearness Allowance (DA) to be paid by the employee and 14 percent of the Basic Pay plus DA by the Central Government". Greater freedom in choosing pension funds and pattern of investment to central government employees has also been notified .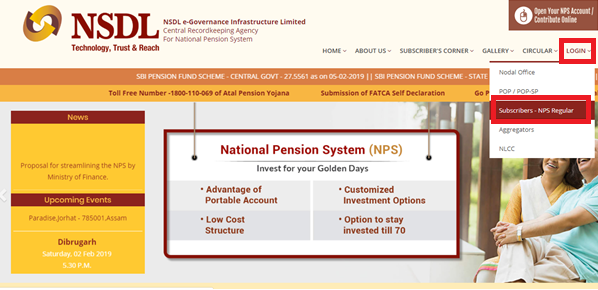 Gazette Notification – NPS Contribution 14% of Basic Pay plus DA by the Central Government
While the government is yet to decide on the date of notification of the new scheme, sources said such changes usually come into effect from the beginning of a financing year, meaning April 1, 2019.
NPS Trust is owner of all assets under the NPS architecture which is for the benefit of the subscribers under NPS. The securities purchased by Pension Funds on behalf of. And individual NPS subscriber remain beneficial owner of the securities, assets and funds. NPS Trust is responsible for monitoring the operational and functional activities of NPS intermediaries' viz. IRDAI registered Annuity Service Providers (empanelled with PFRDA) and also for providing directions/advisory to PF(s) for protecting the interest of subscribers. ensuring compliance through audit by Independent Auditors, and Performance review of Pension Funds etc.
National Pension System (NPS) is a pension cum investment scheme launched by Government of India to provide old age security to Citizens of India. It brings an attractive long term saving avenue to effectively plan your retirement through safe and regulated market-based return. The Scheme is regulated by Pension Fund Regulatory and Development Authority (PFRDA).National Pension System Trust (NPST) established by PFRDA is the registered owner of all assets under NPS.
3. Why should I open NPS Account?
Opening NPS account has its own advantages as compared to pension product available.
Low cost product
Tax breaks for Individuals, Employees and Employers
Attractive market linked returns
Easily portable
Professionally managed by experienced Pension Funds
Regulated by PFRDA, a regulator set up through an act of Parliament
How NPS works?
Upon successful enrollment, a Permanent Retirement Account Number (PRAN) is allotted to the subscriber under NPS. the PRAN is generated. Alert is sent to the registered email ID and mobile number by NSDL-CRA. On retirement or exit from the scheme, the Corpus is made available to the Subscriber with the mandate that some portion of the Corpus must be invested in to Annuity to provide a monthly pension post retirement or exit from the scheme.
For Download Click Below Link:
All District List || Paripatra
National Pension System (NPS) is a perfect solution for retirement planning. It provides old age income with reasonable market based returns. It is based on unique Permanent Retirement Account Number (PRAN) which is allotted to every subscriber for NPS. NSDL-NPS Account Details Available On Our Site Edumaterials